Private Medicals /Safety Critical Workers Medicals
What we provide.

We at Med/Event aim to provide a professional, friendly and thorough private medicals and Safety Critical Workers Medicals for companies or private individuals. Be it for HGV or HSE compliance or a general welfare health surveillance assessment.
We look to complete our Medicals as promptly as possible to reduce time lost from site or from the workplace.
"Med/Event Health surveillance provided our company with a first class immediate service which enabled our workers to be onsite within a few hours". We are extremely grateful to Eifion and his team for their immediate organisation in fulfilling our medicals in this time critical environment at very short notice."

Bryn Cowlyd - Wales Healthier Water


Cardiology Assessment- ECG, Blood Pressure, Pulse.
Respiratory Assessment - Lung Function Test.
Sensory Assessment - Eyesight Audiology.
Blood Screening - Cholesterol, Blood Sugar Levels, Allergies, Drug and Alcohol.

Musculoskeletal - HAVS, Inspection of size and symmetry of a muscle.
Neurological - Balance, Co-ordination and Gait.
Mental Health Assessment.
Specific Tests - Safety Critical Worker and Construction Better Health.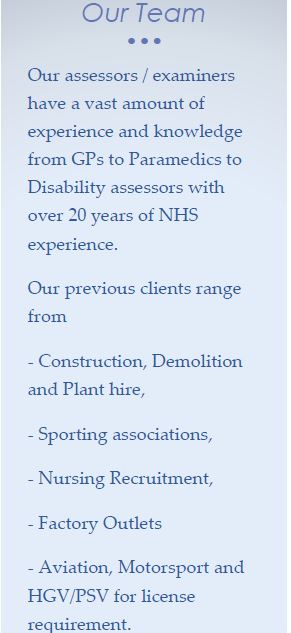 Health Medicals from

£50

Per Person